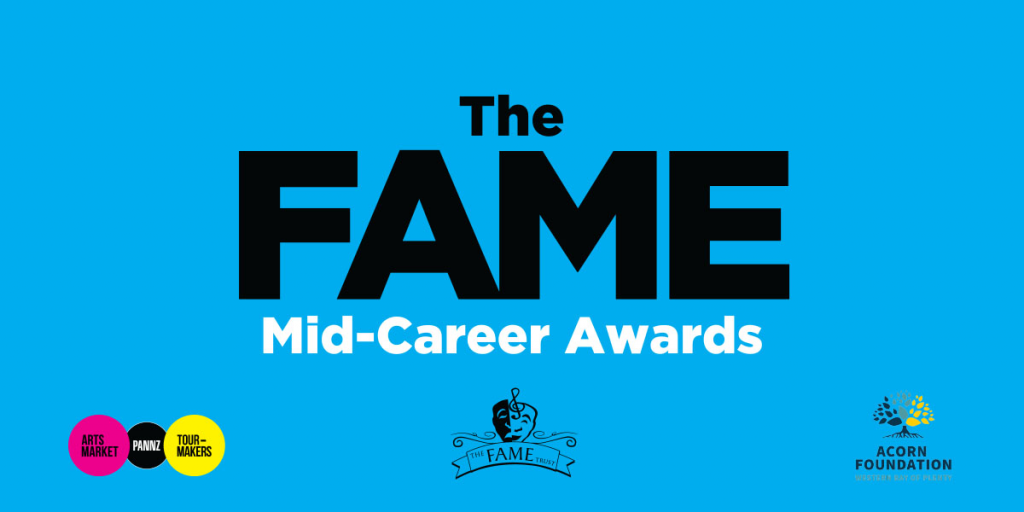 PANNZ is thrilled to announce the 2023 awards for mid-career artists – The FAME Mid-Career Awards, in partnership with The FAME Trust (Fund for Acting and Musical Endeavours) and the Acorn Foundation.* 
This year we are pleased to announce a further two awards for Technicians, Production and Design professionals in the industry, bringing the total number of awards available to five.
The awards are to support the advancement and recognition of established and highly productive, inspirational NZ industry professionals, across three creative disciplines – Contemporary Dance, Classical Music and Theatre.
The FAME Mid-Career Awards will provide for three established and inspiring mid-career artists* and two awards for Production, Design and Technical** professionals. Each award has a value of $15,000.
The prize money may be used to support activities like touring overseas or within Aotearoa, collaborating with other arts organisations, or carrying out further study and/or development. As one of the largest prize grants made available to the performing arts community, it is a privilege to facilitate these awards – made possible by the generosity of private philanthropic donors who make up The FAME Trust.
The 2022 winners were Rodney Bell, Tupe Lualua and Amanaki Prescott-Faletau. 
We encourage past applicants who were not successful to reapply.
---
Application Details
Applications open: 10am Wednesday 1 March 2023 (APPLY HERE)
Applications close: 5pm Sunday 2 April 2023
Applicants notified of outcome: Monday 17 April 2023
We are seeking applications from:
Contemporary Dance: dancers, choreographers, producers, kapa haka performers
Classical Music: composers, producers, conductors, instrumentalists, taonga puoro
Theatre: actors, directors, playwrights
Technicians/Production/Design professionals – lighting designers, theatre technicians, costume designers, sound and set designers
The process to apply is simple
Please tell us about yourself, your career path and your aspirations and
How would you use the award money?
Your application will be assessed across the following criteria:
Meet the criteria of being a professional mid-career artist, who works in the industry full time as a professional. i.e. this is your career.
Demonstrated Excellence
Audience response to work (this criteria does not apply to the Technical Awards)
Innovation in their field
Engaged in other Industry mahi (i.e. mentors, supports others in the industry, creates pathways for others etc)
Awareness and Advocacy (i.e. an industry community leader/supporter in addressing industry issues)
All applications are reviewed by a diverse industry panel (7 people), who have expertise in the disciplines. Applications are independently assessed and the panel comes together to discuss the rankings and bring further discussion and a consensus is reached as to who the successful applicants will be.
For any questions about or further information on the award please email info@pannz.org.nz
---
*Founded in 2007, The FAME Trust has long provided support for young and mid-career artists, plus funded national organisations like the NZSO, Toi Whakaari NZ Drama School and the NZ School of Dance, and local Tauranga groups such as Opus Orchestra, Youth Philharmonic and BOP Symphonia. The FAME Trust has partnered with the Acorn Foundation to manage these awards. The Acorn Foundation is a community foundation based in the Western Bay of Plenty, which encourages people to leave a gift in their wills and/or their lifetimes to support their local community forever. Since it was established in 2003, Acorn has distributed over $13 million.
** Mid-career is determined through evidence of working professionally in the industry for a minimum of ten years and are recognised by industry peers as producing work of a high calibre. It is not determined by age, but at what point you are in your career.